Sign Language Workshops
Language and communication barriers pose major challenges for many Deaf people in different societies all over the world – but most especially in developing countries such as Uganda, where lack of awareness and understanding of deafness results in the victimization, exclusion and discrimination against the Deaf.
Differences are marked by the way hearing and deaf people communicate, share and pass on various forms of information. Sign Language, the primary mode of communication for most deaf people – a linguistic minority, continues to be misunderstood and undermined by predominately 'speaking' world.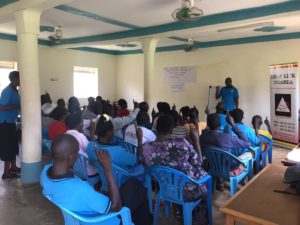 Sign language workshop at Vision TERUDO, Ngora Town
To tackle these barriers, reduce social prejudices and foster greater understanding and
appreciation of Deaf people, DLU undertakes Sign Language Workshops for community members, organised through the Deaf Rights & Advocacy Programme. In 2019, two workshops were held in Eastern Uganda, bringing together a variety of participants that included: parents/families of the deaf, teachers, medical and law enforcement (police) personnel, local council leaders, community members and Deaf people.
The workshops, conducted by our Deaf Sign Language instructors, were well attended, extremely popular, drawing participants' enthusiasm to learn and interact! Community Learning Workshops of this nature are key to eliminating negative attitudes towards the Deaf, reducing stigma and bridging language and communication barriers between deaf and hearing people in working towards societies that promote justice and value Deaf people as significant and productive members of society.