Deaf Link Uganda in partnership with the German Cultural Centre/Ugandan German Cultural Society (GZK/UGCS) conducted a three days' workshop (30 March – 01 April, 2021) on Modern Batik Art at GZK Centre, Kamwokya – Kampala. The workshop theme: "Empowering Deaf Artists through creation of patterns & designs on sustainable fabric" was aimed at equipping Deaf artists with additional skills and techniques to boost and nurture their artistic talents, broaden their horizons and provide a platform to showcase their exceptional potentials. The seven Deaf artists, already accomplished in their own right, were instructed by Uganda's renowned artist and philanthropist David Kibuuka, from whom the artists learnt a great deal.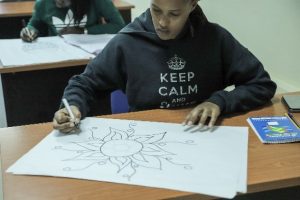 Day One: began by the artists creating individual patterns and designs on paper which were transferred onto fabric. In addition, they learnt the toning technique.
Day Two: resumed with the artists waxing and drying their art pieces. Students produced patterns & designs so beautifully crafted. They attracted the interest of the media who interviewed for broadcasts aired on Uganda Broadcasting Corporation (UBC) and Spark television stations, as well as the East African Newspaper.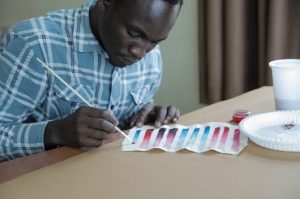 Day Three: was the final day of the Beginners Level, concluding the workshop with great success. Students worked on waxing, ironing, and inking (ink on fabric). Taga Nuwagaba, another of Uganda's international acclaimed artist, popped in to interact with the students. The artists were able to showcase their exceptional talents and unique abilities to focus on their task – each of them was greatly improved by the new skills acquired during the workshop
The Modern Batik Art Workshop was an intense but exciting learning experience for the artists; it resulted in greater awareness about Deaf people's enormous potentials, with a much-needed light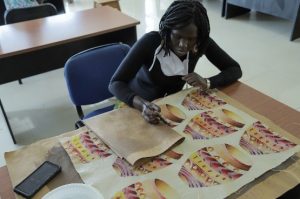 shed over the talents and capabilities they possess, yet they are frequently denied access to education and life opportunities, existing in societies that suffocate their rights to lead meaningful and productive lives with a wealth of gifts to offer the world. This Beginners' Level has been a huge success and a beckoning step forward to further workshops that will take them to three more levels: Intermediary, Advanced and Masters. We are energized by the hope that more Deaf youth will equally benefit from the artists' skills as they will evolve into Trainers of Trainers: Deaf Role Models!