On the evening of October 31st I arrived at Entebbe International Airport Kampala after a rather pleasant flight with Brussels Airlines, stopping only once in Brussels. On a dark but warm night at Entebbe, Nassozi Kiyaga welcomed me at the airport along with her two brothers and a car! After a short drive along Entebbe road, towards Kampala, we stopped at a beach along Lake Victoria to breathe the African night by the lake. I was astonished by the beautiful moon glancing over the water. It was a magical night and a warm welcome to Uganda together with my new friends!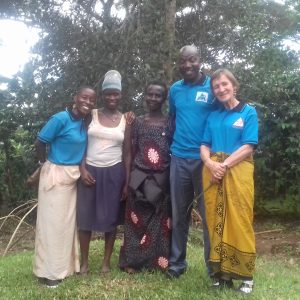 Deaf Link Uganda (DLU) has a small but well organized office which is the organisation's headquarters based in Munyonyo (a Kampala suburb). The office is on the first floor of a large building, a couple of kilometres from Kampala, Uganda's capital, close to Ggaba and Lake Victoria. The building has many different tenants that includes a coffee shop, a massage institute and various retail shops selling handicrafts and a variety of goods. DLU's office is very close to the main Munyonyo road with strolling people and nice green vegetation. There are a lot of cars, motorbikes (also called boda-bodas) and bicycles.
I was warmly received at DLU office by Nassozi Kiyaga and her employee Abdu Musoke, who is deaf from birth. He works as the organisation's Logistics Officer. There were many photos and pictures on the walls and billboards that provide information about DLU's work in Uganda. I saw a lot of faces that I later came to recognize during my field trip with the DLU staff team.
DLU carefully scheduled my trip. We were to visit many places where DLU works in Central, Eastern and Western regions of Uganda. We were to see how different deaf people supported by Deaf Link Uganda had developed their business, learn how they were progressing and find out about their general welfare. DLU took some donations (clothing and other items) that they would distribute to deaf members and their families, to encourage them and learn about their needs.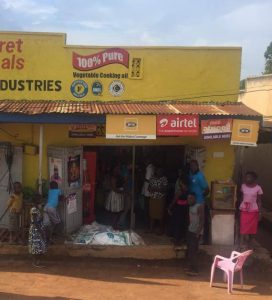 Every month, during the year, DLU staff visits deaf children sponsored in the Education Programme to follow up on their progress in school and at home with their families. Some self-employed deaf people have received microcredit loans from DLU for their businesses; DLU provides financial services to the deaf which enables them to start their own business or invest in already existing ones such as small shops, tailoring and knitting. I visited a deaf woman who owned a shop in Kyegegwa in Kabarole (Western Uganda) who received a DLU micro credit loan and was able to buy various items for sell such as rice, corn, Pepsi cola, juices, sugar, sweet potatoes, beans etc. She also encouraged other young deaf people to start businesses of their own, one young man has a pancake shop and another deaf woman had a hairdressing business. They were all leading very productive lives, working and starting their own employment!
I interacted with hearing customers who told me that they trust a deaf business woman, because the deaf do not try to trick or cheat you!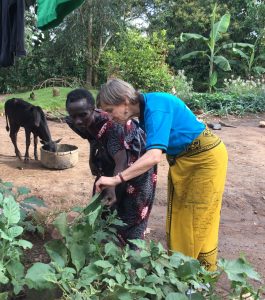 The loans help the deaf to become self-sufficient and economically independent so that they lead productive lives. DLU has been able to support those who wanted to start business such as rearing chickens, turkeys, goats and calves as a source of income. Others have received agricultural and farming tools, sewing machines to start a tailoring business; carpentry equipment and timber to make furniture for sell.
There were many strong and touching meetings with deaf individuals and their families. In Uganda deaf people are marginalized and discriminated against. There are very few schools for deaf and in rural areas, a lot of deaf people do not get the possibility for education and many do not know sign language, they are deprived and have no opportunities for personal or social development. Uganda has no country wide organization for deaf people, like in Sweden.
Deaf Link Uganda makes a difference!
It is here DLU makes a big difference in the lives of deaf people!
Nassozi has a specific and relevant strategy to encourage the participation of hearing family members of the deaf, to encourage them to take care of the needs of their deaf child. Since there are no state resources from the government for deaf children or adults, the work from DLU is very important for a lot of people, not only for the deaf but also for their families and communities.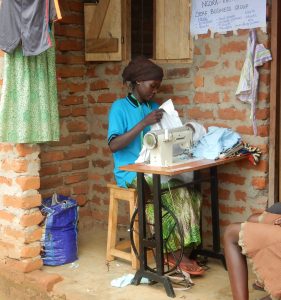 I saw many examples that people who had received help and support from DLU really had done something good with it.
There was a young deaf woman, Akello who gladly showed her sewing machine and her collection of clothes she had made and was selling in her workshop! I met, Omoding a deaf carpenter, together with his deaf wife, Sarah and their deaf daughter. He is extremely talented and skilled carpenter and what beautiful furniture he made! Such high quality and so many different kinds of products he made from timber: beds, chairs, tables, etc.! He works outdoors and displays his furniture in the workshop, his wife has a small shop by the roadside. They also grow crops in the red rich soil. Even if it is hard for him to find places where he can sell his furniture, he still has great potential to develop his business and earn income.
I met another young deaf man who was very happy to receive DLU donations, he showed us how he is able to work and support his family by working on his farm, growing food crops to feed his family and also sell some products in the market for income.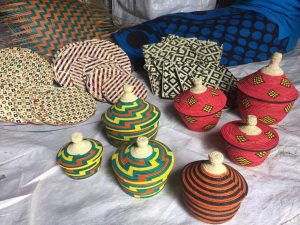 In Fort Portal, Western Uganda, I met two young deaf women who during two years where trained by skilled woman to make the beautiful handcraft using papyrus and local materials. They made small bags, coffee bean baskets and bowls out of banana fibre. All their products had rich colours and delicate beautiful pattern.
Yes, there are lots of experiences to share from my educational and wonderful trip to Uganda! I really recommend a trip to Deaf Link Uganda! However, you have to be prepared and fit to travel a great deal by boda-boda (motorbike)!
Maria Langefors