CASE STUDY 1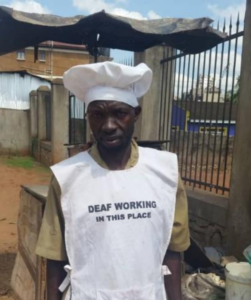 Bwanika Edward, a 47-year-old deaf man lives in Kamwokya and is a single father of three young children: two deaf girls aged 14 and 11 years respectively, and a 13-year-old hearing son. Bwanika is self-employed and works as a street food vendor along a dusty backstreet road in Kamwokya, a Kampala suburb where he has worked since 2007.
He never had an opportunity for education and uses gestures to communicate. Nevertheless, he's a dynamic, hardworking entrepreneur and loving father, committed to ensuring that his children get an education. His deaf daughters are pupils at Bwanda School for the Deaf, Masaka.
Since March when schools closed due to Coronavirus, his children, like all others, returned home. Deaf children have been hit hardest by the Lockdown which has resulted in intense isolation with detrimental effects on their social and emotional wellbeing due to lack of mental stimulation.
Many are victimized and face violence in their homes due to language and communication barriers. In April, the Ministry of Education & Sports began the Covid-19 Home Schooling initiative providing materials for primary and secondary school students via online, social media, radio Bwanika, and his daughters visit DLU office.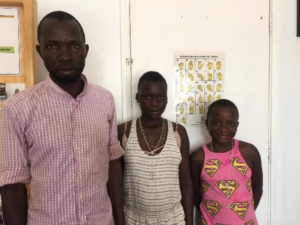 and in newspapers. None of these forums are accessible to deaf children.
Furthermore, the lockdown has affected deaf people economically with nearly 100% losing their sources of income and livelihoods. Struggling for survival, many lack food to feed themselves and their families. Therefore, individuals like Bwanika are exceptionally gifted in their tenacity to work against the tide in overcoming the economic impact of Corona.
DLU's Covid-19 Response supports deaf people in need by providing food items and related supplies to those with small businesses to secure their businesses and highlight their economic tenacity in these challenging times. As agents of change, they inspire our work and motivate us to continue meeting the critical needs of Deaf people in Uganda through our intervention services. Below: Bwanika & his children receive food items from DLU.