Livelihood Programme
The Livelihoods programme aims to improve the lives of deaf people, their families and communities where they live. The programmes provide various services under three sub projects:
a) Deaf Business Groups,
b) Parents Support Initiative and
c) Humanitarian Support.
DLU supports deaf individuals by ensuring they lead productive and dignified lives by setting up income generating activities within their home environments so that they can sustain their lives as well as become contributing members of society.
Deaf Business Groups (DBG)
Deaf Business Groups (DBG) are based in three regions: DBG-Central, Eastern and Western. The initiative grew out of the Education Programme. Having successful completed vocational training in various categories such as, carpentry, farming and agriculture, tailoring & weaving, DLU sponsored children, who had gained invaluable skills and knowledge in a variety of trades, returned to their respective homes to begin their adult working lives. However, without any prospects for employment due to negative social attitudes towards the deaf, that are still rampant, these young deaf adults had no opportunities for employment, despite being trained and equipped with relevant skills.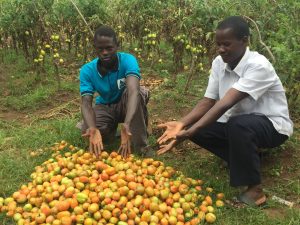 DLU couldn't allow the investment in the education and skills development go to waste as lack of employment would have a detrimental effect on the youth who were ready to face the world of employment, earn a living and begin life as productive members of society. Therefore, the DBG initiative was began to create self-employment for young deaf people and as well as benefit those who had never had an opportunity for formal education. The programme provides eligible applicants with free tool kits in their area of specialized training and mentorship to enable the youth set up business, mostly within their home environment. With close supervision to monitor the establishment of self-employment by the beneficiary, DLU staff provide counseling, mentoring and basic business skills during a two year open-period until the youth gains confidence to work and carry on by themselves. Furthermore, family members and the community are sensitized to recognize and support this initiative; for it reduces economic dependence of deaf people and promotes employment, tackling stigma and reducing discrimination.
Parents Support Initiative (PSI)
This project works specifically with parents/guardians and families of deaf individuals to uplift the socio-economic welfare of the entire family unit by creating opportunities for development, not only for the deaf child, but their parents, siblings and extended family members. 90% of deaf children are born of hearing parents who lack understanding of deafness due to social prejudices. Many parents exclude their deaf child and deny them life opportunities from an early age. Lack of communication compounds the family situation where the deaf child is isolated; tension builds up in the family as the child feels unwanted and a burden. For most parents, any kind of investment in their deaf child is considered a waste. To improve this situation, DLU works closely with parents to enable them appreciate their deaf child as a valuable family member with untapped potentials.
The Poultry Project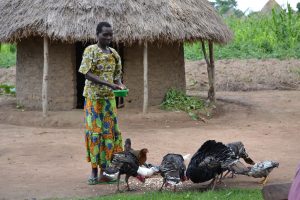 Building supportive families is key to creating deaf-friendly family environments that are inclusive and take into consideration of the entire unit – not only the needs of the deaf child. Because of the economic needs of most families of deaf children, the Parents' Support Initiative is a partnership project whereby we identify any income generating activity within the home. The Poultry Project (i.e. turkey rearing) was identified by parents as a potential source of income to boost family welfare. DLU donated 3 turkeys to parents on condition that they too raised 2 to make a total of 5 for rearing. Began in 2013 each family has gained greatly from turkey rearing. Income from turkey sales is used to support the deaf child as well as her/his siblings, purchase household items, etc. In some families, parents have bought other livestock and agricultural products.
The programme is a cycle of support bringing parents of deaf children together in an effort aimed at raising the status of families of the Deaf in Uganda.
Humanitarian Support (HS)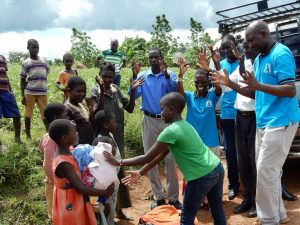 Poverty is dehumanizing therefore this project responds to issues related to basic human needs and tackling problems of deprivation among the deaf people, especially those in rural areas.
DLU provides donations in kind to deaf people and their families, such as, clothing, furniture, agriculture and farming tools, food stuffs, etc. In certain incidences we also donate farm animals such as, cows and goats whose milk is used as a source nutrition and shelter for those in extreme need.
The project has had a positive impact on the livelihoods of deaf people, their families and local communities. By responding to various needs, DLU is able to restore the dignity of deaf people.